Summary
The BU-W02 development well was drilled from the BU-WP1 platform by ENSCO 104 jackup rig. BU-WP1 is located in the eastern half of the Bayu-Undan gas condensate field which is in the Production Sharing Contract (PSC) areas of JPDA 03-12 and JPDA 03-13, North Bonaparte Basin, Timor Sea, offshore Northwest Australia. The location is approximately 25km south of the production facilities of Elang oil field and 480km northwest of Darwin. ConocoPhillips (91-12) Pty Ltd is the operator.
The Ensco 104 jackup drilling rig was on location on 15th May 2002 in 78.3 meters (LAT) of water depth and rotary table elevation of 45.4 meters above sea level. All depths are referenced to the Ensco 104 Rotary Table unless otherwise indicated. BU-W02 was spudded in on 25th May 2002, as part of batch drilling procedures with 5 other well. The well was drilled to the east and reached a total depth of 4697 mMDRT in 12 ¼" hole size on 13th November 2002. Hole instability problems resulted in BU-W02 being plugged and abandoned with two cement plugs between 2950-2801 mMDRT and 2801-2735.3 mMDRT respectively. An 11 ¾" liner was run and cemented at a depth of 2732.3 mMDRT.
BU-W02ST1 kicked off from a depth of 2740 mMDRT, on the 3rd December 2002. The W02-ST1 well reached a total depth of 4986 mMDRT in 8 ½" hole size using Oil Based Mud (LTOBM) on 28th December 2002. The well was cased and completed with 166 metres of net sands to be perforated as a condensate and gas producer.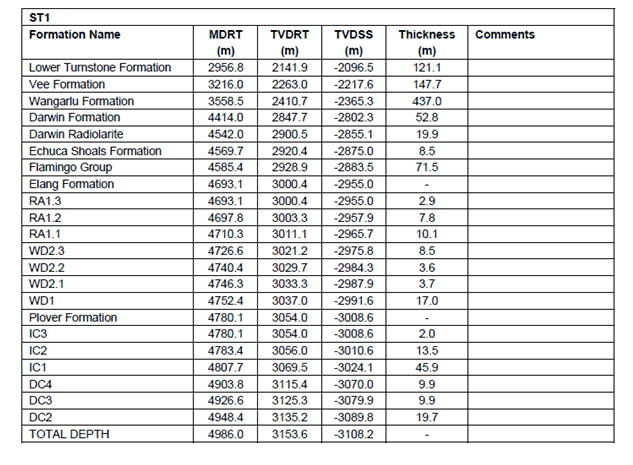 BU-W02-ST1
Composite washed and unwashed ditch cuttings samples were collected for storage at 10 or 20 m intervals in the 10 ⅝" x 12 ¼" hole section, between 2740.0 and 4690.0 mMDRT. A ditch cuttings sampling summary is listed in Table below.
BU-W02ST1 Ditch Cuttings Sampling Type and Frequency
Interval
mMDRT

Sample
Frequency

Sample Type

Distribution

2740.0 to 3200.0
20 m
Washed & Unwashed
Unwashed:
ConocoPhillips 1 set
East Timor Gov't 1 set

Washed:
ConocoPhillips 1 set
East Timor Gov't 1 set
Geoscience Aust. 1 set
3200.0 to 3240.0
10 m
Washed & Unwashed
3240.0 to 3520.0
20 m
Washed & Unwashed
3520.0 to 3600.0
10 m
Washed & Unwashed
3600.0 to 4520.0
20 m
Washed & Unwashed
4520.0 to 4580.0
5/10 m
Washed & Unwashed
4580.0 to 4690.0
20 m
Washed & Unwashed
4690.0 to 4985.0
5 m
Washed & Unwashed
Cores
No conventional cores were cut.
Sidewall Cores
No sidewall cores were acquired.
LOGGING AND SURVEYS
Mud logging
Sperry-sun Drilling Services provided the mud logging services with formation evaluation and pressure monitoring services from 123.7 mMDRT to total depth. Drilling rate, calcimetries, lithologies, total gas and chromatographic analysis of the ditch gas are plotted on the mudlog. Pressure indicators were measured and are plotted on the pressure log.
LWD Logging
BU-W02-ST1
Sperry-sun Drilling Services ran the open hole LWD logs that are summarized in Table below.
BU-W02-ST1 Open Hole LWD Logging Suites and Intervals
Run

Hole
Size

Tool
String

Interval
(mMDRT)

Comments

1100
10 ⅝"
x 12¼"
GR
2740-4102
1200
10 ⅝"
x 12¼"
DDS-GR-PWD
4102-4690
PWD tool failed at 4470 mMDRT.
GR tool failed at 4540 mMDRT.
No recorded PWD could be recovered from
the tool. No recorded DGR data below the
4521mMDRT, with intermittent gaps above
that depth.

1300
8 ½"
DDS-GR-SLD-E3RP4-CNP-BAT-PWD-ACAL
4690-4690
No drilling occurred during this run.
Assembly was RIH to 600 mMDRT before being POOH for bit change (wrong bit run). Did not plug into tool before running back in hole. While running back in hole 5 slip
die buttons fell down the hole while handling drill collars. POOH and racked back drilling BHA prior to conducting junk run.
1400
4690-4693.5
Milling run without MWD/LWD tools
1500
8 ½"
DDS-GR-SLD-E3RP4-
CNP-BAT-PWD-ACAL
4693.5-4817
No real time PWD from 23:30 on the 23/12/02 to 24/12/2002 11:55:00 PM. Recorded data recovered.
1600
8 ½"
DDS-GR-SLD-E3RP4-
CNP-BAT-PWD-ACAL
4817-4986
PWD stopped giving realtime data at 05:55 hours 28/12/02 @ 4971 mMDRT. Could not read PWD tool on surface, return to town for diagnosis.
Wireline Logging
All logging was acquired in cased hole. CGG were used to acquire velocity VSP/Checkshot
data in BU-W02 in cased hole on a Halliburton Logging Services (HLS) wireline cable.
Cased hole Wireline Logging Suites Intervals
BU-W02ST1

1

1

CGG Vertical
Incidence
Checkshot
4939-2170
Check levels not shot below 3080 mMDRT due to high angle below this depth. Two attempts required to run tool through top of liner PBR. Tool pickup depth was 4939
mMDRT.

2

1

CBL-GR-CCL
4938-4484
Main pass logged with 1000psi. Tool string lost in hole upon reaching surface.

2

2

CCL-Impression
Block
4528-4482
Fish finding run. Tool held up in completion string before fish tagged.

2

3

CCL – Compact
Tool String
4926-4799
Fish finding run #2. Fish tagged with lead impression block at 4926m.

2

4

CAST-GR-CCL
4923-4474
Main pass logged with 1000psi

2

5

Wireline Fishing
Overshot
Assembly
Fish tagged at 4926m. No visual damage to the fished CBL tool string