Summary:
The BU-W05A development well was drilled from the BU-WP1 platform by the Ensco 104 jack up rig. BU-WP1 is located in the eastern half of the Bayu-Undan gas condensate field which is in the Production Sharing Contract (PSC) areas of JPDA 03-12 and JPDA 03-13, North Bonaparte Basin, Timor Sea, offshore Northwest Australia. The location is approximately 250 km south of East Timor and 480 km northwest of Darwin. ConocoPhillips (03-12) Pty Ltd is the operator.
The Ensco 104 jack up drilling rig was on contract on 1st May 2002 and on location over the BU-WP1 platform on 15th May 2002. Water depth was 78.30 m and the rig rotary table elevation was at 45.44 m above sea level (LAT). The Total depth (TD) was
Following the unsuccessful drilling operations on BU-W05 and associated sidetracks BUW05ST1 and BU-W05ST2, the well plan was revised and an alternative target was planned. Slot reclamation operations commenced on 1st May 2003 with retrieval of the 13 ⅜" casing from 905 mMDRT and then setting of kick off plugs inside 20" casing to a depth of 753 mMDRT. BU-W05A was kicked off from 808 mMDRT on 5th May, 2003 and drilled to a final well total depth of 3557 MDRT on 2nd June, 2003. Two cores were cut to determine rock mechanic properties within the overburden. Core 1 was cut in the Lower Turnstone Formation (2390-2399mMD) and Core 2 was cut in the Wangarlu Formation (2803-2812mMD).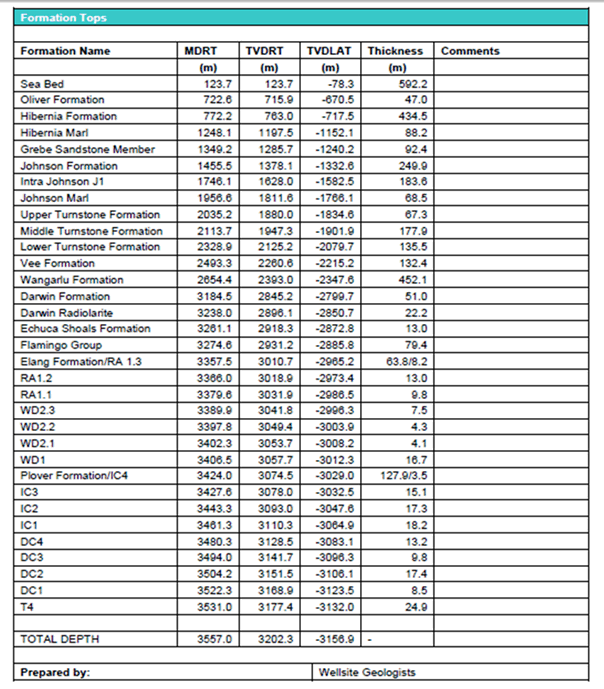 SAMPLES, SIDEWALL CORES CONVENTIONAL CORES
Drill Cuttings
Composite washed and unwashed ditch cuttings samples were collected from kickoff to Total Depth. Samples were collected at predominantly 10 m intervals in the 17 ½" and 12 ¼" hole sections and at predominantly 5 m intervals in the 8 ½" hole section.

Ditch Cuttings Sampling Type and Frequency
Interval
mMDRT
Sample
Frequency
Sample Type
Distribution
817.0 to 3315.0
10 m
Spot Samples
For description only

Unwashed:
ConocoPhillips 1 set
East Timor Gov't 1 set

Washed
ConocoPhillips 1 set
East Timor Gov't 1 set
Geoscience Aust. 1 set
3315.0 to 3557.0
5 m
Washed & Unwashed
Hydrocarbon Shows
Gas shows are summarized.
Cores
Two 9 m full hole cores were cut in the Lower Turnstone and Wangarlu Formations respectively. Coring operations are summarized below in Table.

Full hole Coring Operation
Core
No

Formation

Interval
(mMDRT)

Cut
(m)

Recovered

Comments

1

Lower
Turnstone

2390.0 - 2399.0

9.0

7.22 m / 80.2%

2

Wangarlu

2803.0 - 2812.0

9.0

9.0 m / 100%
Sidewall Cores
No sidewall cores were acquired.
LOGGING AND SURVEYS
LWD Logging
Sperry - Sun Drilling Services ran the open hole LWD logs that are summarised in Table below.

Open Hole FEWD Logging Suites and Intervals
Run

Comments

500
17 ½"
808.0 -

1454.0

600
17 ½"

Dir-DDS-DGR-PWD

1454.0 -2083.0
700
12 ¼"

Dir-DDS-DGR-PWD-BAT

2083.0 -

2390.0

Hard connect on Directional Module/pulser damaged during surface tool makeup. Changed out same prior to RIH.
800
2390.0 -

2399.0

Cut Core 1. No FEWD tools in hole.
900
12 ¼"

Dir-DDS-DGR-PWD-BAT-ACAL

2399.0 -

2803.0

Wipe log acquired over Core 1 interval 2390.0 - 2399.0 mMDRT. DDS failed during trip in hole. PWD failed at 2543 mMDRT. ACAL data not useable due to damaged transducer (discovered post Run 1100).
1000
12 ¼"
2803.0 -

2812.0

Cut Core 2. No FEWD tools in hole
1100
12 ¼"

Dir-DDSDGR-
PWDBAT-
ACAL

2812.0 –
3254.0
Wipe log acquired over Core 2 interval 2803.0 - 2812.0 mMDRT. No DGR, DDS and PWD below 2996 mMDRT
due to tool lower bus failure. Bad real time GR above and no data below 2990 mMDRT. No useable ACAL data due to damaged sensor.
1200
12 ¼"

Dir-DDSDGR-
PWDBAT-
ACAL

N/A
Tools failed shallow test. POOH, laid out BAT and changed out DGR-PWD-Dir tools.

1300

12 ¼"

Dir-DDSDGR-
PWDACAL

3254.0 -
3315.0

ACAL sensor failed on trip in hole.

1400

8 ½"

Dir-DDSDGR-
Res-
CNP-BATPWD-
ACAL

3315.0 -
3471.0

1500

8 ½"

Dir-DDSDGR-
Res-
CNP-BATPWD-
ACAL

3471.0 -
3557.0
Wireline Logging

Open Hole Wireline Logging Suites and Intervals
| | | | | | |
| --- | --- | --- | --- | --- | --- |
| Suite | Run | Tool String | Interval (mMDRT) | BHT/Hrs Since Circ. | Comments |
| 1 | 1 | CAST-EMI-GR | 3300.0-2071.5 | No data/18.4 | EMI run to centralize CAST tool. |
| | 2 | Wavesonic-EMI-SLDT-GR | 3315.0-2078.0 | 119.0/37.4 | Density and wavesonic run in hi res mode 2820-2790m (1.5 Khz), 2820-2790 m(2.2 Khz) and 2410-2380 m(2.2Khz) |
| 2 | 1 | CAST-CBL-CCL-GR | 3493.0-3151 | No Data/29.6 | Ran unpressured repeat section 3493-3450m, main unpressurised pass 3508-3156m and pressurized main pass 3488-3151m. |