JAHAL-1
Operator Name
BHP Petroleum (ZOC-1A) Inc.
JV Participating Interest
-
Well name
JAHAL-1
Fact map link
-
Well Permit
ZOCA 91-01, Bonaparte
Well Type
-
Well Objectives
-
Offset Wells
-
Coordinate System
AMG Zone 52, C.M 129º E
Geodetic Datum
AGD 84
Location
Latitude : 10° 34' 08.023" S
Longitude : 126° 06' 41.243" E
UTM Easting (m): 183 867.78 E
UTM Northing (m) 8 830 220.78 N
Rig Name
Ocean Bounty
Rig Type
Semi-submersible
Rotary Table
25.00 m
Water Depth
402.30m
Spud Date
23 April 1996
Date Reached TD
06 May 1996
Total Depth
3.440mMD (3438.81 mTVD, )
Total Drilling Days
-
Status
Abandoned
Rig Release Date
3 June 1996
WELL SUMMARY
The Semi-submersible MODU Ocean Bounty arrived on location at Jahal-1 on 22 nd April 1996. A second approach to the Jahal-1 location was required as the rig drifted too far of line on the first attempt. Anchors were run.
Jahal-1 was spudded on 23 rd April 1996 (the sea floor was tagged at 427.3m). The 36 in hole was drilled with a 12.25 in pilot bit/36 in kvernex heleopener combination. The hole inclination at TD (467m) was 2.0 with MWD survey and 1.25º Totco survey. The 20 in/30in casing and PGB were run and cemented at 465m. The rig was repositioned to hold the PGB angles to 1.5º port and 1.75º port/fwd while WOC. Upon repositioning the rig, the PGB angles were 1.75º port and 2.0º port/fwd. While drilling the 17.5 in wellhead was run and cemented at 1040.31m. The BOP stack was run and tested.
The cement plug was set in the 8.5 in hole section from 3355m to 3250m. a kick-off cement plug was set from 2900m to 2770m. The hole was displaced back to 1.055G SBM and the hole was sidetracked to 20º inclination at an azimuth of 190º. The sidetrack section was drilled to core point at 3303m MD using two steel tooth bits, one PDC and one TCI all run PDMs.
The well plugged and abandoned. Anchors were pulled and the rig was released at 02.30hrs on 3rd june 1996.
Formation Top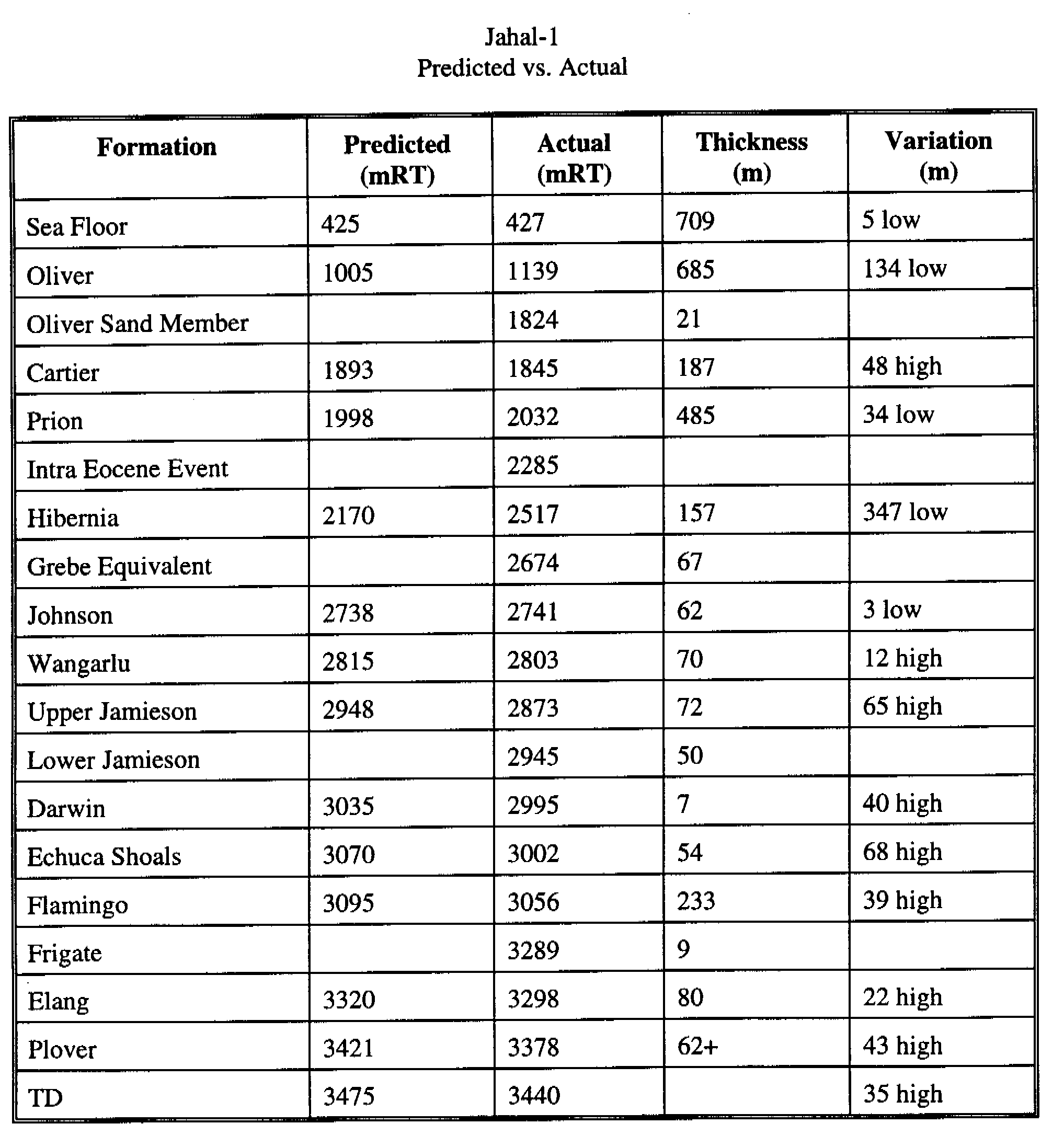 SAMPLES, SIDEWALL, CORES, CONVENTIONAL CORES.
Cuttings
Sidewall cores
| | | | | | | | |
| --- | --- | --- | --- | --- | --- | --- | --- |
| Suite | Run | Bullets | Depth from (mRT) | Depth to (mRT) | No lost | No Empty | No. rec |
| 2 | 6 | 60 | 3425.0 | 2785.0 | 9 | 6 | 45 |
LOGGING AND SURVEYS
Mudlogging/Measurement while Drilling
Wireline Logs
Jahal-1:
Run No
Log Type
Interval
(mRT)
Date
1
GR-SDT-CAL-DLL-AMS-SP
2762-415

01-05-96
1
2762-415
01-05-96
1
3443.8-2760
06-05-96
1
3443.8-2760
06-05-96
2
3438.7-2760
06-05-96
3
3440-2210
07-05-96
4
3413-3302.5
07-05-96
5
3418-3261.8
07-05-96
6
3425-2785
08-05-96
7
3438-2880
09-05-96